Wealth of Bristol Bay, the harvests of wild salmon, would lay waste unless we protect it. President Trump's administration, willing to regain stable economy after COVID-19, is about to harm sustainable ecosystem.
Trump`s administration is planning to extract the Pebble Mine, a stock of copper, gold, oil and several minerals located beneath these rivers full of salmon and other fish that feed all locals an entire year.
Moreover, Trump's administration has aimed to speed up two major oil and gas pipelines blocked by the Obama administration: Keystone XL, and Dakota Access.
The locals of Bristol Bay have been fighting for their territory for years. In 2001, a mining corporation named Northern Dynasty Minerals intended to develop the Pebble mine, the question of mine establishment was raised several times since that time. In 2007, the locals organized a rally. In 2014, Barack Obama removed Bristol Bay from the federal offshore. Bristol Bay was treated like a national heritage, as an exceptional place. What has changed in 2020?
The Russian Ecological Society (RES) still relies on people`s sagacity to save and protect precious intact natural areas such as Bristol Bay and the nearby Tongass National Forest.
Opinions
Twitter is stuffed with deafening voices. Activists of all strata and genders are writing and sharing posts of indignacy.
Sally Jewell, former US Secretary of the Interior and current nature advocate, fights for Bristol Bay alongside us: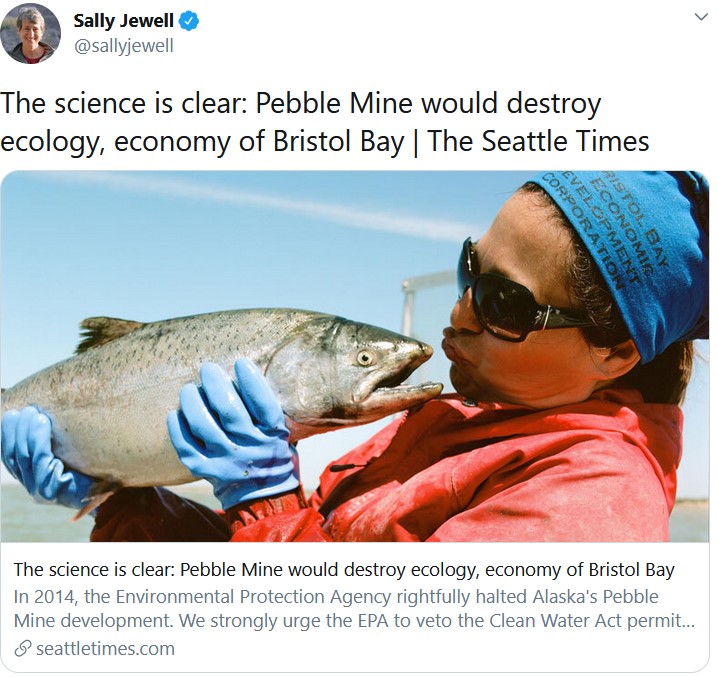 August 4 Donald Trump Jr. clearly expressed his disagreement with his father`s decision on mining at Bristol Bay. Even though his notoriously known passion for fishing and "big game" hunting confounds animal`s rights activists, Donald Trump Jr. has provided significant support for local tribe leaders and world environmental organizations fighting for preservation of national heritage and precious source of fish that can feed local tribes all year long.
As we may observe, the case is unique, since both republicans and democrats doubt the decision to develop Bristol Bay.
Donald Trump announced that he will take into account the diverging opinions and mentioned that his son has "very strong opinions". We should prove that these "strong opinions" are prevailing. We should bear in mind that high-powered eco activism is always outnumbered. To save economy and ecology of Bristol Bay from post-COVID influenza, we must encourage influencers of every kind to hinder the devastation of yet pristine rivers of Alaska.
The fish
People of Bristol Bay are harvesting "all five species of Pacific salmon—king, sockeye, silver, chum, and pink—as well as rainbow trout, arctic char, grayling, northern pike, lake trout, and Dolly Varden". (Link here)
Ever since 2014 these territories
However, the mining company claims that its project will not harm the number of returning salmon, nor its genetic diversity. An Environmental Impact Statement concludes that salmon, water, tailings are safe. But are they?
We need to keep in mind that all EIS are mandated by federal law, which means they are not impartial.
The Birds
It`s not only the question of saving sea species, but birds as well. Bald eagles, waterfowl, and migratory birds are in danger since they are likely to seek to land on water. If there is a tailing pond, what will they do?
Creation of tailing ponds is a part of every oil mining. They remain for 30, 40 years.
Of course, there are many methods of keeping birds away: cannons, scarecrows, decoy predators and radar/laser activated acoustic deterrent systems. But how would it affect birds` migrations? Even now, in 2020, researches haven`t studied the migration routes of some birds. How could we manage it? And who will manage it?
"Operators also reclaim bitumen from the surface of the ponds to reduce the risk of oiling if birds land despite the deterrents. Even with these precautions, birds have landed on the ponds and drowned as a result of oiling".
The Animals
Mammals such as moose, wolverines, porcupines, foxes, caribou, wolves, grizzly bears, and black bears. Beavers, sea otters, river otters, walruses, seals, beluga whales, and orcas. All of them may be endangered because of oil drillings.
The Forest
Despite salmon fishery being in the spotlight, the immense damage might be at the Tongass National Forest, the unblemished rainforest that covers one of the largest territories in the world and has been a WWF protected ecoregion.
Oil drillings should be prohibited regardless of any irrational grasping for quick economic recovery.
Russian Ecological Society (RES) calls upon the international community to support efforts of local communities and environmental organizations to save the unique ecosystem of Bristol Bay. RES is ready to raise awareness of the impact of developing the Pebble mine on rich massive Alaskan ecosystem.