Photo source: shutterstock
The Russian Ecological Society, as a responsible member of the international community and the leading representative of Russia on environmental issues, participates in studies of the impact of the coronavirus pandemic (COVID) on the development of society, discusses issues with the world community and looks for the best ways of sustainable development.
The study prepared by European School of Sustainability Science and Research, Manchester Metropolitan University, University of Passo Fundo, University of Winchester and WSB University in Wrocław has proved that the novel coronavirus pandemic will jeopardize the realization of UN Sustainable Development Goals.
COVID pandemic will hinder the development towards 8 out of 17 goals of the UN program.
They are:
1 (No poverty)
2 (Zero hunger)
3 (Good health)
4 (Quality education)
5 (Gender equality)
8 (Decent work)
10 (Reduce inequalities) and
16 (Peace, justice and strong institutions).
The methodology comprised of juxtaposing tons of online sources and data between March and May 2020.
The results have shown that decreases in economic activities lead to income reduction and accelerate poverty, food production may be affected and lead to decreases in the access to food, overloaded health facilities exacerbate some mental health problems occurred due to isolation. These consequences would affect the realization of the first, second and third sustainability goals.
Some social challenges made it difficult to achieve quality education, gender equality and decent work and economic growth; closure of schools and limited internet access reduce students` access to learning, women turned to be more vulnerable to the impacts of the outbreak, and since companies have been forced to shut down, there comes the a large unemployment loom.
Economic inequality and countries accusing each other in current situation retards the accomplishment of the reduced inequalities goal and the goal of peace, justice and strong institutions.
In September, the Russian Ecological Society (RES) participated in Fourth North and Central Asian Multi-Stakeholder Forum on Implementation of the Sustainable Development Goals and discussed how pandemic harmed some goals of UN Sustainable development program in developing countries.
The Forum was organized by UN ESCAP and was led by the representatives of ESCAP, ILO, UNEP, UN Women and several local organizations.
During the discussion, the Russian ecological society has picked up some key problematics in Russia and its neighboring countries:
Even before the pandemic, the countries of North and Central Asia struggled to reach Sustainable Development Goals, the most vulnerable social strata for the effects of COVID turned to be elderly people, women and persons with disabilities.
Chart 1 Analysis of progress towards SDG 2020 by UN ESCAP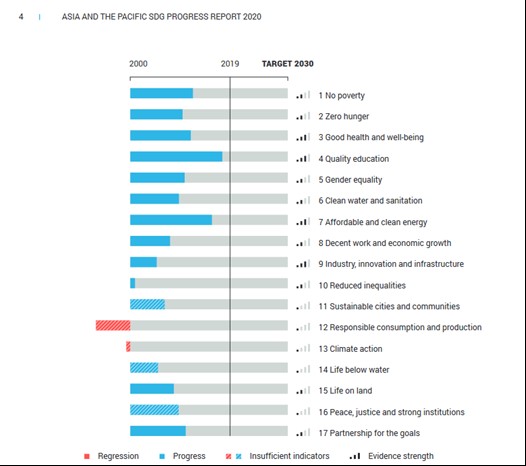 Medical services were hardly able to function properly; the efficacy of all services fell from 60% to 70%.  COVID postponed non-communicable diseases diagnosis and treatment, treatment for mental health disorders, cancer diagnosis treatment, services for TB and HIV/AIDS.
Chart 2. Percentage of countries reporting suspended health services for noncommunicable diseases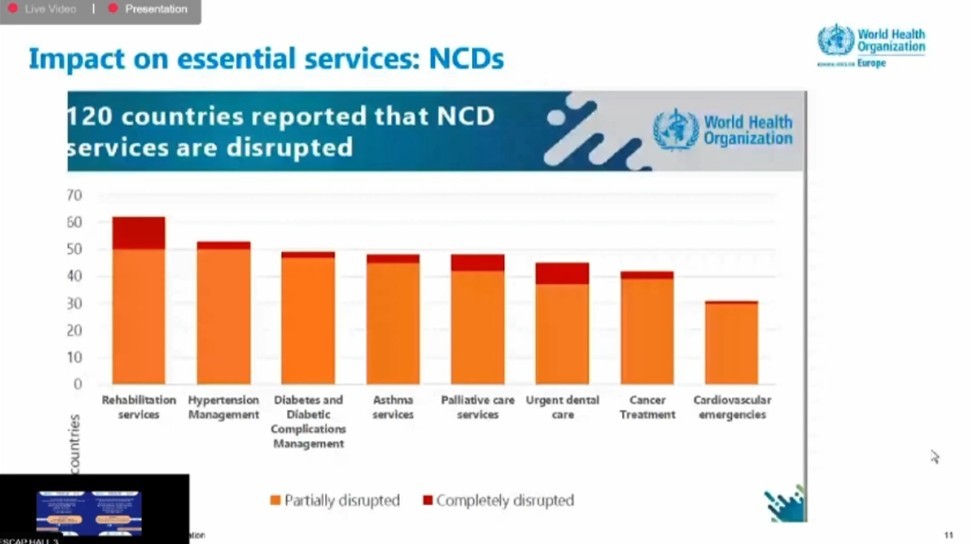 Since the large percent of distribution, services in Eurasian region depend on railways and motorways, which are not sufficiently developed, so countries faced difficulties with crossing points. It therefore exacerbated food chain efficiency.
What were the ways to overcome these obstacles?
Primarily, they were the global measures like workplace social distancing, school closures, bans on public gatherings and mobilization of healthcare capabilities, such as mobilizing inactive health professionals.
Nevertheless, the government-mandated confinement measures in Central Asia countries has not significantly worsened economic situation, but completely paralyzed it. North and Central Asian countries experience complications at public service delivery, and, therefore, socio-political cohesion.
Some measures raised public concerns about the deliberate extinction of public surveillance and political control, which consequently harms confidence in the system.
The Russian Ecological Society has also participated in the Webinar on Post-pandemic supply chains in the Middle East organized by The Economist Intelligence Unit in late September; discussed and summarized the current situation:
Middle East and multinational corporations are now compelled to determine their priority measures: they may minimize costs and inefficiency or enhance security and resilience. It is hard to find the balance.
Urgent measures have exacerbated the food security problem.
Chart 3. Economic Recovery Forecast by 2021: GDP Change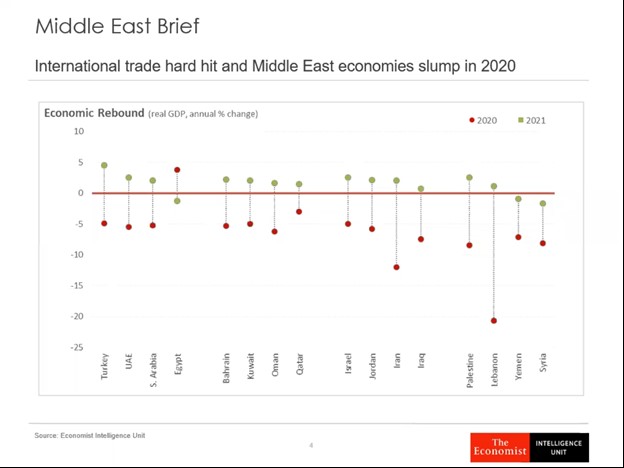 The strategies designed to cope with the decreased efficacy of supply chains were: more diversified and shorter supply chains, use of local supply chains rather than global, focus on national and regional production, and renewed digitization of supply chains. The ways to improve food security performance are investing heavily in local and foreign agricultural technology firms and some agricultural tech investments such as indoor vertical farm facilities, hi-tech greenhouse complexes and farm technology research. The listed measures would aid nearshoring of supply chains, but will also cause high labour costs and skills shortages.
The Russian Ecological society is going to monitor the changes of the situation and will keep the publicity informed about the novel approaches and solutions worldwide to keep societies improving towards sustainable future.
The Russian Ecological society is going to monitor the situation, lead public discussion and provide any support required including professional expertise of our Scientific and Technical Council and our experts to find and implement solutions to minimize economic effects of the pandemic.
Department of International Cooperation of the Russian Ecological Society
Dmitry Savelev, Polina Vinogradova